So your partner proposed (congratulations by the way!), you've got the ring you've been dreaming of since you were little, now all you need to do is pick a date and tadaaaa wedding's planned right?
Wrong! (Oh but if only it were that easy!).
In reality there are SO many things that you need to consider to plan your BIG day, but where to start?
I'm going to make a bold statement here and suggest we start with 'Wedding Venues'. More specifically… "Wedding Venues in Spain". That's right people, I'm going BOLD! Let's all hop on a plane and get married in the sunshine!
Sounds terribly expensive doesn't it? Well rest assured that I wouldn't do that to you guys. You deserve the best and I hope that this blog will give you the information you need to find the perfect venue to accommodate all of your friends and family, within your budget and with sunshine 99% guaranteed.
You seem sceptical and I feel you. Most people think of Spain as a charmless place full of lager louts and bull fights, but if you know the right places to look, you will find that Spain is in incredibly fascinating country with bags of culture, incredible culinary experiences, beautiful scenery and did I mention sunshine?!
With that in mind, let's get straight to it guys! Below you will find information on some of my favourite venues (I hope you're as excited as I am!)
LA ROCA RARA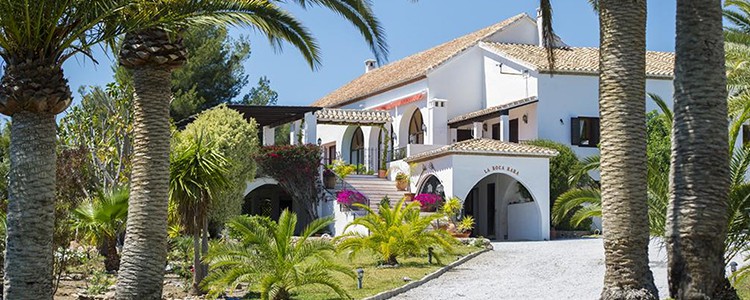 This incredibly beautiful 'Hacienda' is a hidden gem! This luxury villa boasts ample space for up to 100 wedding guests, and with its 7 en suit bedrooms (including a Bridal suit), La Roca Rara can provide accommodation for up to 14 guests for the entire week!
Now if THAT doesn't get you excited, then maybe the pool, the sauna, tennis courts, the gym and 2.5 acres of mature gardens just might!
You will find Roca Rara just one hour drive from Malaga airport and perfectly situated between the villages of Nerja and Frigiliana. These villages offer pretty much everything you could need for you and your guests, with Nerja boasting shops, beaches and nightlife and Frigiliana being widely regarded as one of the prettiest towns in Andalucia, you can't go wrong.
You only need to look at the photos below just to see how much charm this lovely, lovely place is, and why it holds such a big place in my heart.
PALACETE DE CÁZULAS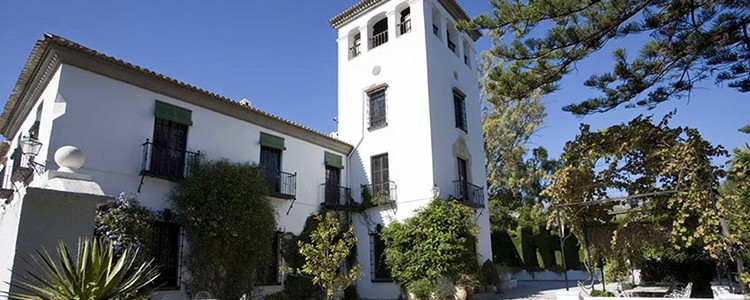 Now this one is a bit 'out of the way', but I can assure you the drive is WELL worth it! Accommodating up to 100 wedding guests, and boasting overnight accommodation for up to 18 guests, this venue has literally EVERYTHING you need right on your doorstep. It provides a Mansion, adjoining cottages for extra accommodation, tennis courts, a 30 foot pool which can be heated if necessary AND a chapel on site! All of which are surrounded by beautifully maintained moorish gardens – and if you're feeling super fancy, it also has a helipad. Need I say more?!
CORTIJO MARIA LUISA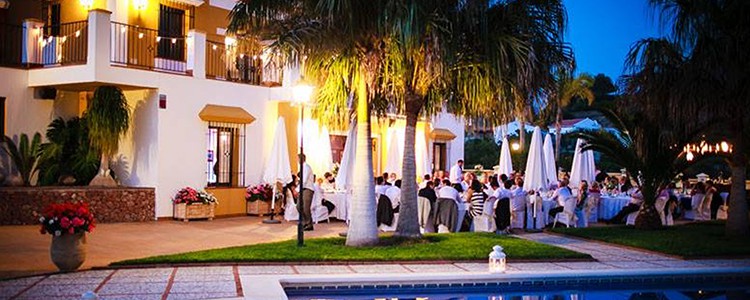 This stunning villa can accommodate up to a whopping 150 wedding guests! If (unlike me) you happen to know that many people, this may be the venue for you!
The villa is surrounded by beautifully manicured gardens which have been perfectly designed with different areas to break up the day. Enjoy your 'canapé/champagne hour' on the top terrace (complete with a swing set to keep the younger guests entertained!)…glide down the stairs to the main garden with its large terrace for al fresco dining, wow factor garden, outside bar, a swimming pool andspectacular views of the Spanish countryside and the Mediterranean Sea…this place is definitely Instagram ready!
I know what you're thinking; but fear not, if the weather is a little bit 'iffy' there is room inside for eating and/or boogying the night away.
CASA DE LOS BATES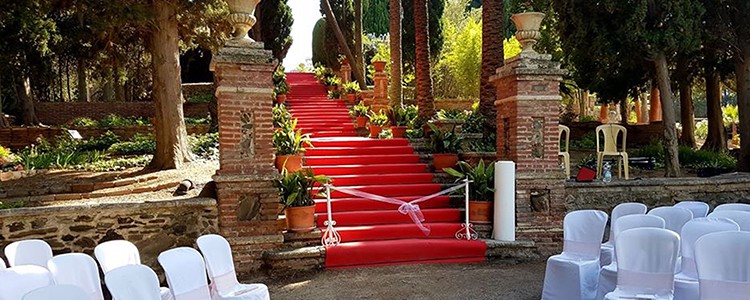 You can find this brilliantly unique and elegantly restored 19th century house ideally located on the coast of Granada (just one hour drive from Malaga to you and me).Nestled highon a hill top, it offers fantastic views of the Sierra Nevada mountains, the Castle of Salobreña, and in the distance, the Mediterranean Sea.
150 guests will fit easily into this opulent setting, and with overnight accommodation for up to 12 guests, you and some of your favourite people can pretend to be royalty for the day (or week!)
The century old gardens are genuinely spectacular, but if your unsure about this venue…just imagine yourself walking down that staircase! That there will give you the entrance that brides (and grooms) to be, dream of (and will keep your wedding guests talking about it for years to come!).
LA PEQUEÑA ALHAMBRA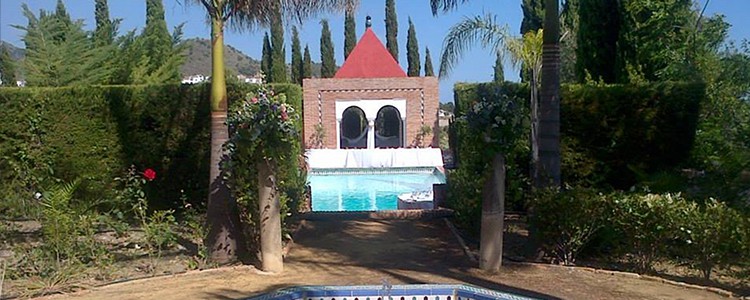 This rustic villa is a little piece of paradise! Nestled in the countryside besides the white washed village of Frigiliana it boasts 360 degree views of the stunning village and its mountain range. This rustic Hacienda is full of charm and character, and the pretty gardenshave been designed with the Alhambra Palace of Granada in mind.
The cool, shaded courtyard provides THE perfect place for your ceremony, and the pool area, with its moorish pool-house for a backdrop is just such lovely setting for your 'Wedding Breakfast'.
This Andalusian gem will hold up to 60 guests and provides overnight accommodation for 19.
I feel you are potentially getting a bit bored of me going on about MY favourite places…but stay with me for just one more, as this last place is new to the wedding scene and is ready and waiting to give you the best wedding day ever!
Introducing:
VILLA CIELO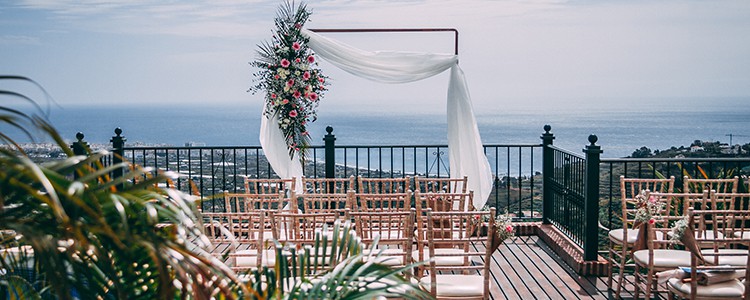 This brand spanking new, and VERY lovely villa is situated between Nerja and Torrox. It offers panoramic views of the Mediterranean that are out of this world guys! And just look at that infinity pool!
This wonderful place can hold up to 100 guests and can sleep up to 16.
As I mentioned previously, Villa Cielo has only recently opened its doors as a wedding venue. Due to its newness, people are intrigued. This venue may just be THE place to wed this AND next summer!
Just imagine sipping your pre wedding cocktails, and saying your 'I do's' with that view!
Now I am aware that despite me initially saying WEDDING VENUES IN SPAIN…I actually fibbed a bit and just stuck to what I know best…Nerja, and it's beautiful surrounding areas…I hope you don't feel cheated in anyway…and I truly hope I have planted the seed that can bloom into the thoughts and dreams of you having your big day over here in beautiful, sunny Spain (have I mentioned the sunshine yet?!).
If you're still talking to me and would like to find out more…either about any of the above venues, or maybe even about hotel weddings, OR OR OR other venues up and down the coast, then I'm still the girl in the know peeps!
Contact Boutique Spanish Weddings or Food For Thought Catering for more information on creating the perfect day for you, your partner and your friends and family.
Peace out love birds