I do love a good wedding don't you? The idea of getting dressed up for the day and watching some of your favourite people declaring their love for each other…ahh just fills me with such joy.

But wait, now it's your turn to declare your love for your partner and you want it to be the bees knees (and far better than that awfully tacky wedding you went to last year THAT'S for sure).
But impressing people with a lavish wedding can be expensive right? Well…that all depends on where you look…
If we're talking fancy UK weddings, then then yes, generally they're pretty pricey (and you better cross your fingers and pray to the weather gods for a sunny day!), so how about I throw you a different option…what about a destination wedding?
Now technically a destination wedding is one that is held over one hundred miles away from your home town…but I don't want to do things by halves…I'm not thinking a booze up in Bognor…I'm thinking warmer climates and sunnier skies…I'm thinking THE COSTA DEL SOL.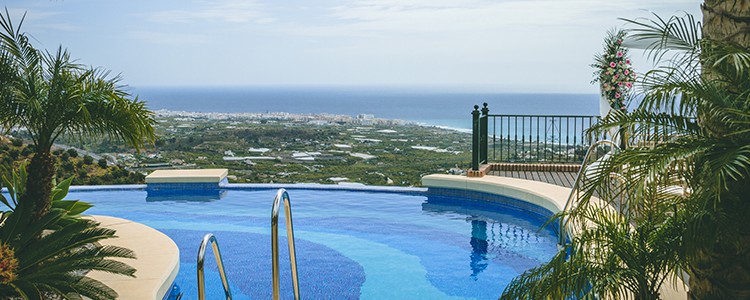 Whether it's a church wedding you're dreaming of, a hotel over looking the sea or a pretty villa nestled in the country side, Spain has every thing you could possibly dream of and more.
Sounds great right? But your nervous. I get it…Spain is a long way from home, but hear me out ok?
Just imaginethe warm sun on your face, a cold sangria in hand and the sound of the Mediterranean Sea lapping away in the distance, the smell of suncream and barbecues in the air…ooooo, sounds like a pretty good place to start for the fanciest of fancy weddings doesn't it?
Well with budget airlines offering return flights to Malaga from twenty quid, it's no wonder loved up couples are swapping their umbrellas for parasols, hopping on a plane and travelling over 1400 miles to Spains 'Sunny Coast' to tie the knot.
Ok I've convinced you…but there's still some concerns…it's cool to be wary…you're planning one of the biggest day of your lives!
Dilemma numero uno – I'm not Catholic 😱
OH EM GEE…what are we gonna do with you? No worries my lovelies…although Spain is predominantly Catholic (which is why our Irish buddies jumped on the Spanish wedding band wagon many moons ago)…most churches nowadays can offer anyone of any religion (or not) a blessing within their glorious holy walls (the paperworky bit can be sorted before hand either in your local registry office or in sunny Gibraltar (where you can haggle a great price on your wedding rings and then pop into Morrison's for some last minute cocktail sausages for your big day)…
Dilemma two – It'll all be in Spanish
Breathe. Here is the website of my favourite wedding planner on the Costa Del Sol –www.boutiquespanishwedding.com
She goes by the name of Helen, and guess what? Being from Northampton in the UK herself, her English is pretty darn good
This lady is a bloomin diamond. She has a contact for EVERYTHING AND EVERYONE you will need to make your BIG DAY as fancy as fancy can be.
Need a venue? Helen has some exclusive venues on her books.
Photographer? Helen knows a few.
Need a cake? Not a problem.
Want a Cheese Tower or Sweet Cart instead of a cake? It's covered.
Band? Yep.
Magician? Check.
Magic interactive mirror? On her speed dial.
Check out her website!!!!!
Dilemma number 3 – I don't want to buy cocktail sausages from Morrison's and cater my own wedding
Luckily for you, our beautiful wedding planner Helen just so happens to be married to a pretty darn good chef (Simon), who just so happens to run a catering company (they're a match made in heaven right?). Here's his website www.foodforthought.es
Simon can cater to pretty much all dietary requirements, can offer you handmade packages to suit all budgets and has THE BEST team which will make your big day run as smooth as clockwork.
With additional options like 'late bar', 'midnight snacks', 'lemonade stand' or my personal favourite his little Piaggio van which can be used as aprocesso or gin bar…why oh why would you want to go anywhere else?